Nieuws – Rowan van 't Hoogt
Een kijkje in de keuken bij ProRail Flux traineeship: samenwerken en zelfontplooiing
De nieuwe generatie studenten kiest nog steeds graag voor een traineeship na het afronden van hun studie. Het biedt hen de uitdagingen om zichzelf beter te leren kennen. En het geeft hen de mogelijkheden om in korte tijd de rol die ze ambiëren, en de organisatie waar ze voor hebben gekozen, beter te leren kennen. Maar jong talent behouden en ontwikkelen is voor veel organisaties steeds meer een uitdaging. Daarvoor werken ze anders, denken ze anders, ze handelen anders, en boven alles, ze verbinden zich op een andere wijze en aan andere zaken dan voorheen.
Samen met Prorail werken we continu aan de beste trainee experience van vandaag en morgen, waarin we zoveel mogelijk tegemoet komen aan de wensen en behoeften van deze nieuwe generatie. In dit artikel krijg je een kijkje in de keuken en lees je wat voor gave sprints we in co-creatie ontwikkelen.
In dit artikel vertelt, Edward Hueting, Technisch trainee bij ProRail, hoe hij de tweede sprint van het ProRail traineeship heeft ervaren.
Traineeship Sprint 2: De Windkracht
"De frisse wind, de windstoot en de uit(z)waaiers, iedereen werd in zijn (wind)kracht gezet op 25 en 26 juni tijdens de tweedaagse. Allemaal vol energie en klaar voor 2 dagen gevuld met zelfontplooiing en leermomenten. Of we nou geblinddoekt een vierkant probeerden te maken, dansten als wapperende bomen, of elkaars 'personal space' probeerden te ontdekken, élk onderdeel werd vol enthousiasme aangegaan waardoor we dingen van onszelf en elkaar ontdekt hebben die we anders wellicht nooit hadden geweten.
De tweedaagse begon in het bezoekerscentrum "De Hoep" in Castricum, waar we verwelkomd werden door de trainers Peter en Rani. Volgens de website gelegen op een van de mooiste plekken van Noord-Holland. Nu ben ik niet zeer bekend in die provincie maar ik kan beamen dat het daar mooi is! Het programma in "De Hoep" bestond uit een uurtje kunstzinnig knutselen, gevolgd door een opdracht waarbij we geblinddoekt een vierkant moesten creëren met touwen. Het doel was om een perfect vierkant te vormen met mensen in het midden, op de hoeken en halverwege de zijden. Een opdracht waarbij goede samenwerking belangrijk was. Hierbij werd maar weer eens pijnlijk duidelijk dat mensen de neiging hebben om (letterlijk) blind te vertrouwen op degene die de leiding neemt. Desalniettemin hadden we een verassend goed resultaat neergezet, dus misschien is een beetje vertrouwen in een leidinggevende zo slecht nog niet.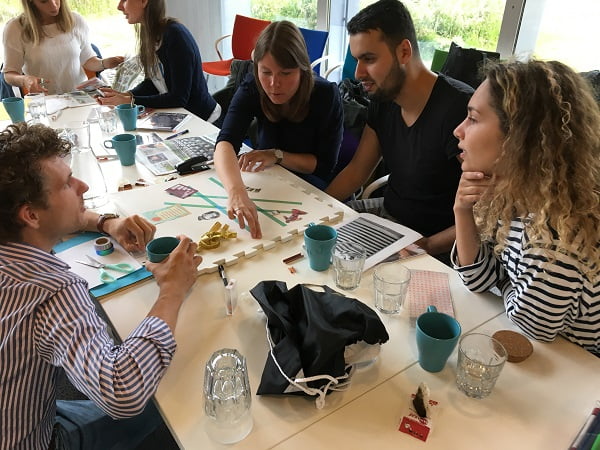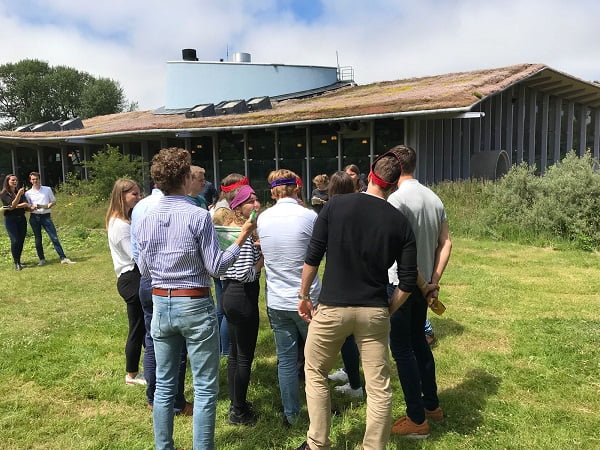 Hierna volgde een lunch waar de meest kritische randstad hipster nog jaloers van zou worden. Quinoa salade's, vers zuurdesembrood met avocado, een smoothiebar, alles was aanwezig. En het was nog lekker ook! Na deze oppeppende lunch volgde een wandeling door het bos, waarbij we onze uitdagingen met elkaar bespraken.
Uit(z)waaiers
Bij het avondeten sloten de uit(z)waaiers aan, die ons nog even op het hart drukte dat we toch écht niet moesten vergeten te genieten gedurende ons traineeship. Voor zover we dat niet al wisten, hebben we dit advies ter harte genomen, om ze daarna te eren met een lied waarin we hebben verwoord wat we van hen vinden. Na dit muzikale intermezzo was het weer tijd voor serieuze zaken. De nieuwe lichting ging hun "levenslijn" met elkaar bespreken om elkaar beter te leren kennen en de oudere lichting ging dieper in op zaken waar ze tegenaan lopen op het werk. Al met al een intensieve avond die aansluitend nog even nabesproken werd onder het genot van een drankje.
Nieuwe energie en moed
De dinsdag begon vroeg. Heel vroeg… Een strandwandeling moest ervoor zorgen dat iedereen weer vol energie en goede moed aan de nieuwe dag zou beginnen. Een kleine groep met liefhebbers heeft hier zelfs een strand-hardloopsessie van gemaakt. Na deze oppeppende wandeling volgde voor een deel van de groep een sessie die in het teken stond van het aangeven van je 'personal space'. Het andere deel ging naar Natalie voor de dansworkshop. Hier bleek toch maar weer eens dat zelfs de meest stijve ProRailer zwicht voor een energieke danslerares. Alle gêne werd opzij gezet terwijl onze voeten zich één maakten met de grond, we elkaar 5 minuten in de ogen staarden en uiteindelijk energiek door de ruimte heen sprongen om te ervaren hoe een boom zich voelt in de wind. De voorbijgangers moeten hebben gedacht dat we niet helemaal 100 waren, maar wat maakt het uit, het was geweldig!
Geweldige ervaring
De dag werd afgesloten met een presentatie van onze 'kunstwerken'.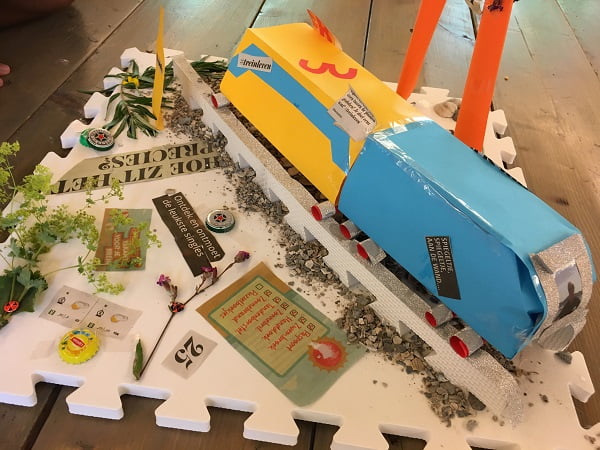 We hebben gezwoegd, gelachen en soms zelfs een traantje weggepinkt, maar bovenal was het vooral een geweldige ervaring. Heel veel dank aan iedereen die dit mogelijk heeft gemaakt en natuurlijk aan alle trainees die vol passie en overgave hebben deelgenomen. Ik kijk nu al uit naar de volgende sessie!"
Wil je meer weten over traineeship? Lees dan ons Whitepaper Traineeship 3.0: 'Design your own'
28 juni 2018
Benieuwd of dit programma ook werkt voor jouw organisatie?
Bel mij dan gerust even op om van gedachten te wisselen.
We ontwikkelen programma's die altijd naadloos aansluiten, ook full digital.
Benieuwd of dit programma ook werkt voor jouw organisatie?
Bel mij dan gerust even op om van gedachten te wisselen.
We ontwikkelen programma's die altijd naadloos aansluiten, ook full digital.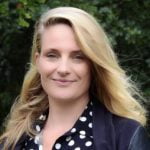 Neem gerust vrijblijvend contact op om van gedachten te wisselen.