Afwisselende feedback: verfrissende noodzaak!
Wie in deze tijd zegt zonder structurele en constructieve feedback op het werk te kunnen, moet zich zorgen maken over zijn realiteitszin. Waarom?
Omdat iedereen in de organisatie verantwoordelijk is voor de performance. En geen enkele collega zou mogen wegkomen met 'storend-en resultaat-remmend-gedrag'.
In een open bedrijfscultuur waarin men zich veilig voelt om kritisch te zijn moet er ook ruimte zijn voor collegiale feedback. Door mijn ervaring als trainingsacteur geef ik enkele wenken hoe feedback verfrissend kan worden gegeven en georganiseerd.
Wat is feedback geven?
Feedback geven op het werk doe je naar aanleiding van een (positieve en of negatieve) gebeurtenis waarbij je de collega aanspreekt op eerder met elkaar besproken en gemaakte afspraken. De structuur is als volgt: je confronteert de ander altijd vanuit je eigen perspectief, zonder oordeel met de 'ik-boodschap'.
Je zegt wat jouw indruk is van het gedrag van die ander, hoe dat voelt en wat voor effect dat heeft op jou en jullie samenwerking. Dat is de kern van feedback geven en kan op verschillende manieren worden uitgevoerd. Maar dat is stof voor een volgende blog :-).
Leg de focus op 'feedforwarding': altijd gericht om het gedrag van die ander op de korte termijn te verbeteren, waardoor de samenwerking leuker wordt voor een beter resultaat.
Feedback ontvangen is trouwens ook 'een vak'. Open staan voor feedback van je collega en daarover vragen stellen is namelijk niet iedereen gegeven. Maar al te vaak schieten we in de verdediging in plaats van eerst te luisteren wat die ander je eigenlijk te zeggen heeft.
Goed waarnemen is 'key'
Hoe dan ook: feedback begint altijd met geconcentreerd waarnemen en dat is iets anders dan interpreteren. Aannames worden makkelijk gedaan en zelden gecheckt. Dat betekent dus als je bepaald gedrag beoordeelt je meteen moet denken: 'is wat ik denk wel echt wat er speelt bij die ander?'
Intensiteit opvoeren
Suggestie is om op enig moment binnen een team of afdeling de verschillende vormen van feedback-intensiteit (van 0 graden tot 360 graden; zie hieronder) tussen gever en ontvanger te bespreken en in te plannen. Door de setting waarin je feedback geeft te wijzigen, verhoogt de kwaliteit van de feedback en vrijwel altijd daarmee ook de acceptatie ervan.
Nul graden feedback: Als medewerkers geen ervaring hebben met collectieve georganiseerde feedback is om te beginnen een rondje reflectie over jezelf in het bijzijn van anderen een mooie start. Je zou je collega's kunnen vragen: 'Wat vind je van mijn werk?' Dat zet hen aan tot denken.
90 graden feedback: Intensiever is de carrousel waarbij eenieder in een binnen- en buitenring steeds in een andere 1 op 1 beland en zijn gesprekspartner vertelt wat hij (m/v) goed aan de ander vindt. Let wel: alleen tops dus. De tips, het gewenste verbetergedrag, volgt een sessie later…
180 graden feedback: Je kunt er in een volgende fase ook echt voor gaan zitten met je collega, oog-in-oog. Je krijgt tops en tips. Aan de hand van de 3 G's (gedrag-gevoel-gevolg) komt verbetergedrag aan bod: Wat voor gedrag heb jij gezien bij je collega?, Hoe voelde dat? en Wat was het gevolg (effect) voor jou? Voeg daar de vierde G aan toe -gewenst gedrag – en je hebt 4G.
360 graden feedback: Tot slot zet je jezelf en je collega's op de Hot Chair en vraagt ongezouten feedback van alle kanten. Tops en tips. Als je dan in de verdediging schiet, ben je de bok. In de tegenaanval gaan, creëert een boemerangeffect. Het is de ultieme test en flink zweten. Verdedig je niet, sta open als ontvanger; blijf luisteren en stel pas een vraag als iets je niet duidelijk is.
Complimenten douche: Als afwisseling kun je per keer ook één medewerker in het midden zetten die van de anderen een kort en bondig compliment ontvangt vanuit de 'ik-boodschap'. Ervaring leert dat de ontvanger het moeilijk vindt de 'douche van complimenten' te ontvangen en ook voor de gevers lastig is te geven. Deze vorm van feedback kan onderling verbindend en ontspannend uitpakken.
Overleg met je collega's om bovenstaande vormen van feedback structureel vorm te geven en plan de feedback-sessies in de agenda.
Tot slot zie je in dit filmpje een mooi voorbeeld van hoe feedback geven niet moet. Weet je ook waarom?
16 november 2020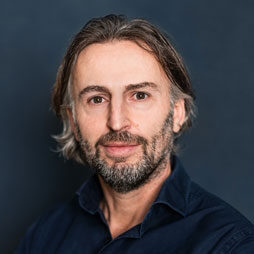 Benieuwd wat we kunnen betekenen voor jouw organisatie? Bel mij dan gerust even op om van gedachten te wisselen.
We ontwikkelen programma's die altijd naadloos aansluiten, ook full digital.
Benieuwd of dit programma ook werkt voor jouw organisatie?
Bel mij dan gerust even op om van gedachten te wisselen.
We ontwikkelen programma's die altijd naadloos aansluiten, ook full digital.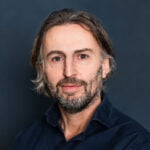 Neem gerust vrijblijvend contact op om van gedachten te wisselen.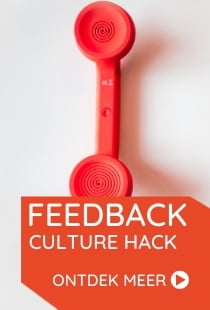 Feedback is de drijver achter ontwikkeling. Zonder feedback geen vooruitgang, en zonder vooruitgang geen verbetering van de prestaties. Dit weet iedereen. Toch?