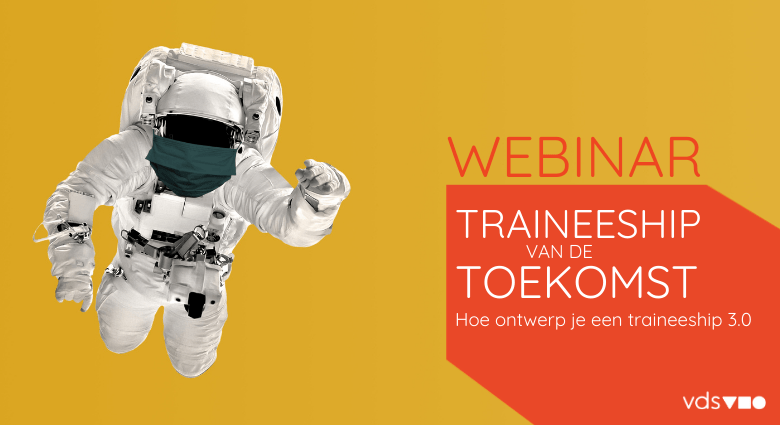 Gouden regels voor een goed traineeship
Succesfactoren en missers
Inspelen op de wensen en behoeften van young professionals in 2022
Hoe zorg je voor een toekomstbestendig programma?
Zo zorg je voor een goede follow-up op het programma
Ga je in 2022 een traineeship opzetten? Dan is dit webinar wellicht voor jou, want we gaan onze kennis delen. Onze collega Rowan van 't Hoogt, inhoudelijk betrokken bij onder andere de traineeship van Prorail, PwC, NIBC en Port of Rotterdam, voorziet je van up-to-date kennis. Ze zorgt ervoor dat jij precies weet waar je scherp op moet zijn, dat je weet wat wel en niet werkt. Hoe je voor aansluiting gaat zorgen tussen dat wat de organisatie nodig heeft aan talent, en de behoeftes van de young professionals.
Vrijdag 11 februari om 10 uur
meld je direct aan, dan ben je zeker van je plek
Talent vinden, ontwikkelen én binden
Een leuke uitdaging, en als L&D professional weet je dat een traineeship hierbij kan helpen. Jonge talenten die worden binnengehaald krijgen zo de kans om kennis te maken met de organisatie en de afdelingen. Ze ontwikkelen zich in rap tempo tot professionals en door deze frisse wind komt óók de organisatie in beweging. Met een goed programma ga je van binnenuit vernieuwen en komt talent sneller op de juiste plek. Nieuwe talenten geef je een fantastische leerzame en effectieve start, en dat maakt je aantrekkelijk als werkgever. Win, win. Maar wat is dat, een goed traineeship?
De kracht van het traineeship
Doen dus. De afgelopen jaren hebben we het positieve effect in de praktijk mogen zien, dus wij stemmen voor. Maar.. we hebben het ook hier en daar mis zien gaan. We hebben gezien dat organisaties keuzes maakten die wel logisch leken, maar dat het in de praktijk gewoon niet werkte.
Want instromende jonge professionals vinden nu eenmaal andere dingen belangrijk dan generaties hiervoor en worden door andere dingen gemotiveerd. De organisatie heeft een doel voor ogen, en wil klaar zijn voor de toekomst, maar op welk punt vinden de jonge professionals en de organisatie elkaar? En dan is er een enorm aanbod uit de markt: breinleren, gamification, community building, ROI. En zijn we voorlopig nog hybride of thuis aan het werken.
Weet jij wat werkt?
Weet jij wat in 2022 werkelijk belangrijk is voor de professionals in je traineeship? Ja natuurlijk, het programma moet kwalitatief goed in elkaar zitten. Maar dus óók aansluiten op de trainees en de toekomstige functies die ze gaan vervullen en voldoen aan de wensen van de organisatie. Kortom: dit is jouw uitdaging. En als je nu denkt, ik wil er alles over weten: meld je dan aan voor het webinar.
Want vanuit onze jarenlange ervaring kennen we de succesfactoren, en deze willen we met je delen zodat jouw programma wél gaat werken, toekomstbestendig is en dat het een goede follow-up in de organisatie krijgt.
Ben je erbij?
Over Rowan van 't Hoogt
Het webinar wordt dus gegeven door Rowan van 't Hoogt, zij is organisatiepsycholoog en creatief directeur bij VDS. Ze realiseert gedragsverandering bij uiteenlopende organisaties en is vanuit VDS medeverantwoordelijk voor traineeships en talentprogramma's.
5 december 2021