Wendbaar leiderschap is de nieuwe rol van een leider
Als wendbare organisaties vragen om wendbaar leiderschap is het voor iedere leider de vraag wat dit inhoudt. Maar vooral het antwoord op de vraag: "en pas ik daar dan wel bij?" is belangrijk.
Leiderschap is in de laatste 150 jaar ontstaan vanuit de behoefte om sturing te geven aan het lopende band werk tijdens de opkomst van de massaproductie. De rol van de leider toen was om medewerkers duidelijke productieorders te geven en daarop controle uit te oefenen (De leider als allesbepalende factor, zie figuur 1).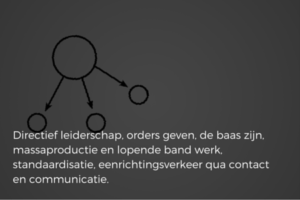 Het huidige tijdsgewricht maakt het bijna onmogelijk om langs deze lijn van leiderschap nog succesvol te zijn. Zowel de markt als de medewerkers vragen iets anders van een organisatie. Hoewel dit systeem door Liz Wiseman* als OUT wordt bestempeld is het tegelijkertijd nog vaak en omvangrijk aanwezig binnen organisaties met alle consequenties van dien. Indicatoren dat dit niet meer werkt zijn trage besluitvorming, laag tempo van innovatie, geen of nauwelijks groei van de organisatie, zeventjes op klant- en medewerkerstevredenheidonderzoeken.
Van leider naar geleider
Door toenemende complexiteit van dienstverlening en communicatielijnen "moest" de leider steeds meer de rol van "geleider" op zich nemen. De geleider die de lijnen verbindt tussen zichzelf en de medewerkers (zie figuur 2). Ook deze vorm van leiderschap heeft zijn beste tijd gehad. Indicatoren dat deze manier van werken niet voldoende productief is:  verloop onder de top (er kan onvoldoende ontplooiing van talent plaatsvinden want 'the only way is up'), promoties vinden plaats op basis van performance in de onderliggende laag, scores op medewerkerstevredenheidonderzoeken met betrekking tot hun leidinggevenden zijn zesjes en zeventjes, functiesystemen zijn nog leidend voor de inrichting van de organisatie.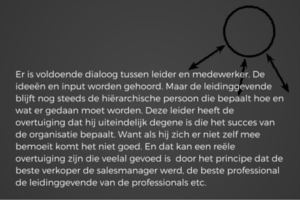 Naar wendbaar leiderschap
Mede als antwoord op de problemen die de 'oude' leiderschapsmodellen veroorzaken is er veel belangstelling voor het thema wendbaar leiderschap.  Nog een stap verder is de stap naar wendbaar leiderschap. De eerste stap naar wendbaar leiderschap is dat de leider zich gaat opstellen als vermenigvuldiger.
Als een Multiplier zoals Liz Wiseman het noemt, gebaseerd op de titel van haar boek Multipliers.  Dit type leider snapt dat zijn voornaamste rol niet is om zelf de slimste van de klas te hoeven zijn, maar dat het zijn taak is om het talent en de denkkracht van de mensen om hem heen te benutten. Hij begrijpt dat in deze snel veranderende kenniseconomie het succes niet meer kan worden bepaald door wat hij zelf weet, maar in grote mate afhankelijk is van de mate waarin hij in staat is het talent van anderen te zien, te benutten en te mobiliseren. Deze vorm van leiderschap is een belangrijke schakel in de overgang van de meer traditionele organisatievormen zoals hiervoor omschreven naar de toekomstige organisaties. Hiërarchie transformeert hierdoor naar meer gelijkwaardigheid en leiderschap kan worden gezien als een professie die niet perse gebaseerd is op de allerbeste prestaties als professional (de beste coach is niet perse de beste voetballer geweest.
De leider als vermenigvuldiger kan worden gezien als de persoon die de plantjes van talent zaait en deze met zorg tot groei en bloei laat komen zodat de beste oogst voor de organisatie kan ontstaan. Deze vorm van leiderschap is momenteel  populair, omdat deze wel in de traditionele organisatiestructuren kan worden uitgeoefend, maar de hiërarchie niet langer in de weg hoeft te zitten om mensen tot grote prestaties te brengen. Er is dus niet eerst een totaal andere organisatievorm nodig (zie ook figuur 3. De leider als vermenigvuldiger)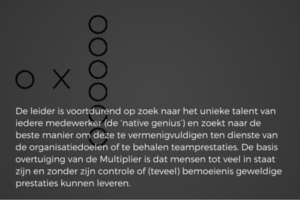 Vloeiend leiderschap
Daar waar organisatiestructuren ook steeds meer vloeiend worden (geen vaste hierarchie, grenzen tussen 'binnen' en 'buiten' vervagen, zelfsturende teams of projectorganisaties) neemt de behoefte aan wendbaar leiderschap verder toe.  Hier ontstaat de behoefte aan 'fluid leadership' genoemd. Bij deze vorm van leiderschap geldt eveneens het leiderschapsgedrag van een vermenigvuldiger als het  gaat om het zien, benutten en vermenigvuldigen van talent van anderen.
Het gaat echter nog een stap verder, want vanuit dit perspectief is er niet meer een vaste leider die voor alles eindverantwoordelijk is. Verantwoordelijkheden kunnen per project of taak verschillen. Liz geeft hier tijdens 'De Multiplier of the Year verkiezing' in november 2015 een prachtig voorbeeld van. "Op de eerste dag als CEO gaat Eric Schmidt van Google naar kantoor.  Aangekomen zit er iemand achter zijn bureau te werken. Eric vraagt: "mag ik vragen waarom je hier zit?" Waarop de medewerker zegt: "het is vandaag druk op de werkplekken en ik zag hier nog een werkplek vrij". En op de reactie van Eric dat hij de nieuwe CEO is van Google reageert de medewerker met: "Wat is een CEO?". Times are changing "
Er is wel degelijk een leider bij ieder project aangesteld, maar deze rol wordt afgewisseld afhankelijk van de doelstelling en inrichting van het project. Juist als het gaat om wendbare organisaties waarin verschillende mensen verschillende en wijzigende (leiderschaps)rollen op zich nemen, is een hoge mate van zelfleiderschap, zelfsturing en verantwoordelijkheidsgevoel nodig. Omdat hier niet meer een vast functie- of competentiesysteem als norm wordt gehanteerd, wordt het belangrijk dat van grotere groepen mensen (niet meer alleen van de leidinggevenden) de leiderschapskwaliteiten en potentie in beeld worden gebracht en worden ontwikkeld. Op die manier zijn mensen in verschillende teams of eenheden snel inzetbaar bij wijzigende situaties en omstandigheden. Een veel gebruikte benaming in dit verband is het model van de holacratie, een organisatievorm die in diverse Silicon Valley gerelateerde organisaties populair is geworden. Eveneens wordt in dit verband vaak gesproken over het Spotify-model. Hier vind je meer info over de organisatievorm van holacratie werkt.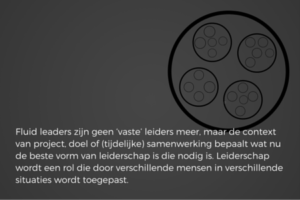 Smaakt dit naar meer?
*Liz Wiseman behoort wereldwijd tot de top tien van denkers in vernieuwend leiderschap en begeleidt 's werelds grootste leiders hierin. In november 2015 bezocht ze Nederland, op uitnodiging van Gooiconsult en VDS. Wij werken nauw samen met Liz Wiseman als het gaat om vernieuwend leiderschap. Tijdens een vip-lunch vroeg ze een groep hrd- directeuren wat hen bezighield op het gebied van vernieuwend leiderschap. De belangrijkste vraag die hieruit naar voren kwam is: hoe maakt de leider van de toekomst het verschil in organisaties? Het antwoord van Liz op deze vraag publiceerden wij in een artikel in het aprilnummer van TvOO. 
12 april 2016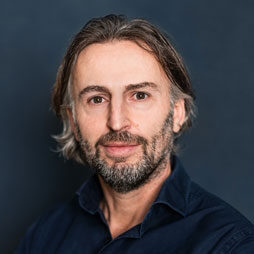 Benieuwd wat we kunnen betekenen voor jouw organisatie? Bel mij dan gerust even op om van gedachten te wisselen.
We ontwikkelen programma's die altijd naadloos aansluiten, ook full digital.
Benieuwd of dit programma ook werkt voor jouw organisatie?
Bel mij dan gerust even op om van gedachten te wisselen.
We ontwikkelen programma's die altijd naadloos aansluiten, ook full digital.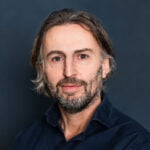 Neem gerust vrijblijvend contact op om van gedachten te wisselen.