Intro
Gooiconsult and VDS Training Consultants have joined forces with Liz Wiseman (The Wiseman Group) and Hazel Jackson (CEO, Biz-group) to develop an inspirational lecture for ATD 2016 in Denver: Bridging the leadership gap with Multipliers.
Do you recognize that:
Only 14% of companies worldwide believe they are strong at succession planning – a 86% gap
Only 13% believe they are excellent at building global leaders – a 87% gap
Only 7% are excellent at building Millennial Leaders – that's a 93% gap
We collectively increased spend by 10% in 2015 to a staggering $31 billion on Leadership programs and only 37% are satisfied with the results, that's a gap of 64% who believe they yielded some or little value from just short of $20billion. Most programs are still only measured with smile sheets. (Bersin's report 2016)
That's the gap in numbers. What's the gap in behaviors according to Bersin's 2016 report? Leadership Expectations are changing & Leadership development isn't keep up with the business demands. We have a gap in the ability to attract, inspire and retain talent in this competitive market.  Read more

Get inspired – ATD 2015
To find out more about our successful alliance with ABN AMRO and our participation in ATD 2015, you can download our ATD presentation from last year.

You can also download our whitepaper. This whitepaper gives you more information about the concept behind the Business Leadership Program.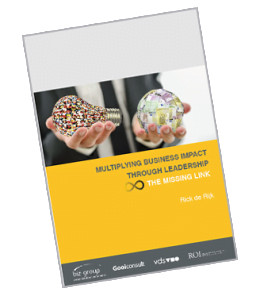 The ATD (Association for Talent Development, formerly ASTD) is the most important annual conference on developments in Human Resource Development. Attended by more than 10,000 people from across the world, the ATD is the largest event for HRD professionals.